Cricket Café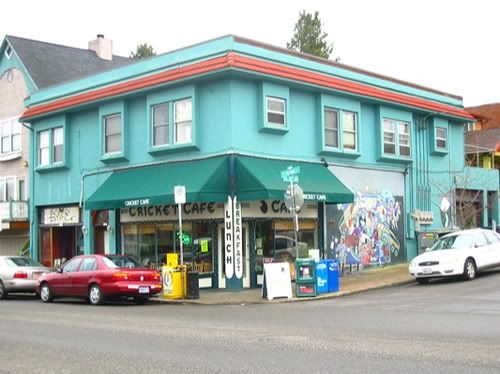 Cricket Café
3159 SE Belmont St.

Date:

10/29/06


Arrival:

11:10am


It was 10:30am when my friend Kara called and asked if I'd be up for eating at the Cricket Café. She reminded me that it was actually 9:30am due to the time change. It was as if the breakfast gods were smiling down upon me while granting me an extra hour to enjoy my favorite weekend meal. For blogging purposes, I am going to note the arrival time as 11:10am, even though technically it was 10:10am. The size of the crowd waiting outside was more of an 11am crowd (the later you eat breakfast in Portland, the longer the wait time) and our internal body clocks definitely agreed.

We arrived and Jay was able to grab a delicious cup of Madera fine roasted coffee while we waited outside. [Author note: I don't drink coffee (I know, sacrilege, right?) but I will rate it when possible because I realize that a good cup of coffee can make or break a breakfast for most Portlanders.] We waited for about 30 minutes outside while listening to Chris Isaak wail along to

Wicked Game

on the radio station that the Cricket Café chose for its patrons. Not exactly our music of choice, but we did enjoy singing along. After being seated, we noticed that the menu contained a variety of scrambles, skillets, omelets, French toast, as well as an ample amount of vegetarian options. Our waitress came immediately and she was very friendly.


Kara and I both ordered the

Southeast

Scramble

(eggs, cheese, onions, and bellpeppers) with hashbrowns and sourdough toast. I was quite happy with my choice. The scramble was delicious, the toast (from Grand Central Bakery) was wonderful, the hashbrowns were fluffy and crispy. I wasn't able to finish it and declare, "OMG, best breakfast EVER!", however, I do not have any complaints.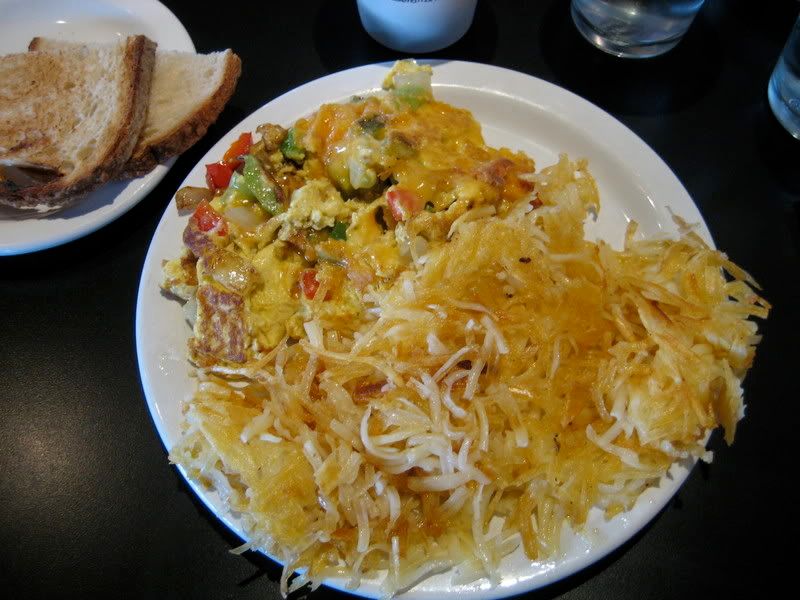 Jay decided he wanted to out-breakfast the both of us by ordering the Cricket Omelet, which he special ordered with veggie sausage instead of bacon. The omelet contained 4 eggs, cheese, onions, the aforementioned veggie sausage, and hashbrowns stuffed inside the omelet topped off with gravy. If that doesn't say food coma, I don't know what does. Jay took one bite and said it was pretty much the best thing ever. 50 bites later, he was about ready to pass out as he decided that this menu option was "too much!".
Overall I was happy with my experience at Cricket Café today.


Wait Time Outside - 32 minutes


Wait Time For Food

- 27 minutes

Service - very friendly, took our order quickly


Food

- tasty, food-coma-inducing


Options

- plenty of choices for meat and veggies, large menu


Price

- $6-8


Atmosphere

- cute place, music could have been better